Eat better.
Locally Sourced Around madison, WI × innovative custom menus
Local chef bringing a unique, worldly dining experience.
Chef Rafe offers a creative approach to private events and in-home dining. Based out of Madison, Wisconsin, Nate has traveled the world and brings those culinary experiences to your table.
Whether you're looking to plan an intimate in-home dinner for a special occasion, need upscale cuisine for that office holiday party, or are in search of a wedding caterer that'll go above and beyond to help create a one-of-a-kind social event, Nate has done it all. Check out what others are saying.
Nate is a Level 2 Sommelier and can bring exceptional wine pairings to your social event, no matter what budget you're working under.
Click below to read Chef Rafe's complete biography.
contact
nate@chefrafe.com
608-381.-2385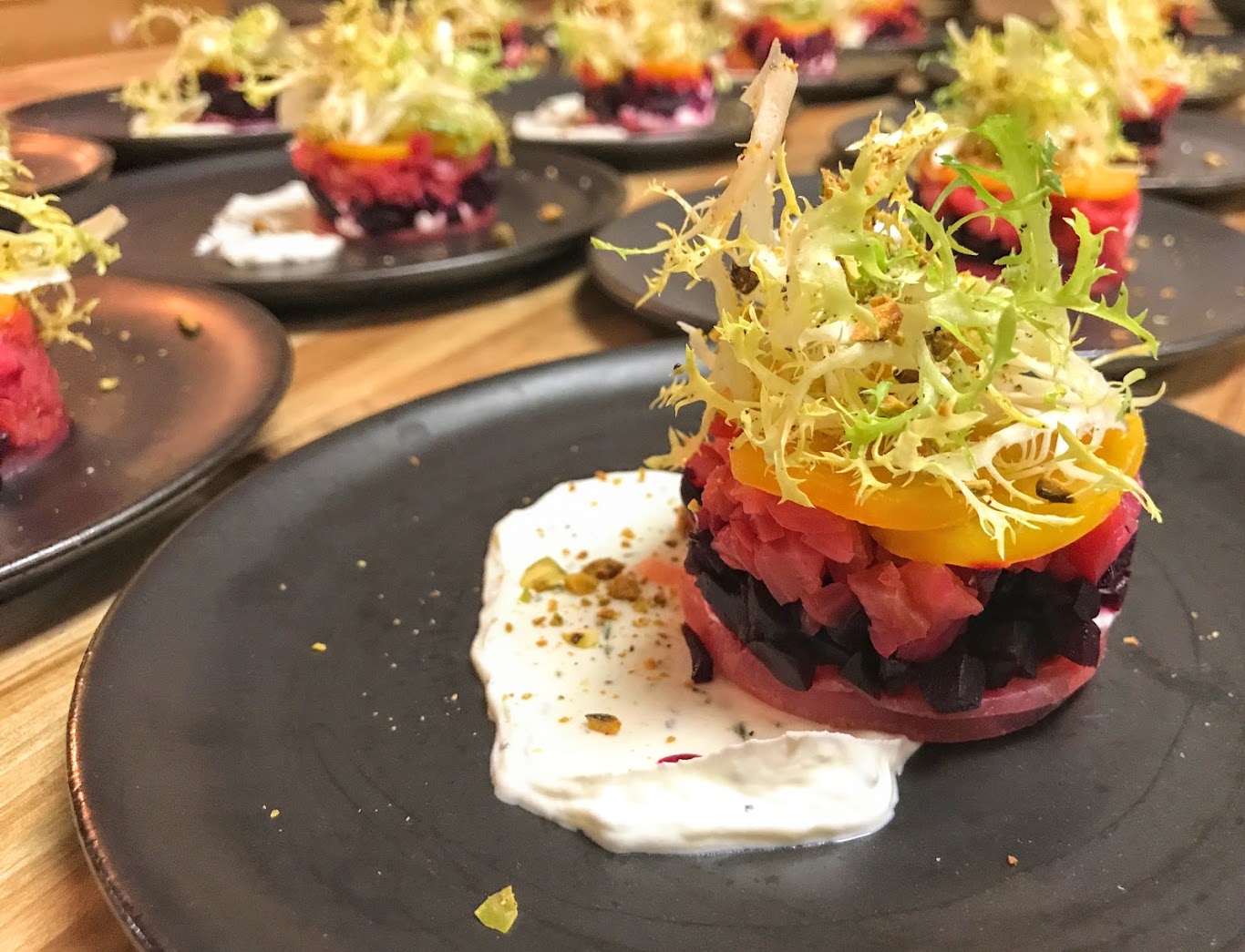 Dr. Julie Fagan & Dr. Joel Buchanan
"We hired Chef Rafe (or Nate, your preference) to cook for a gathering to celebrate the finish of Ironman Wisconsin, a big birthday, and retirement.
We asked for tapas, and he exceeded all expectations—incredible shot glasses of avocado-cilantro soup, hanger steak with chimichurri, prawns with preserved lemons and garlic chips, skewers of beets, feta, cucumber, and olives, and more.
The pieces de resistance were small dessert bites of banana butterscotch pie on chocolate crust and bacon salted caramels.
From start to finish, Nate was professional, organized, and much more experienced and proficient than his youthful appearance suggests. His crew of helpers were friendly and extremely professional as well.
He took care of all details, including linens, dishware and glasses, silverware, wine, serving dishes and cleanup, leaving us free to mingle with our guests, which was the reason for the party."
"Over and over, we were asked who the caterer was and complimented on how deliciously different the food was. I recommend Chef Rafe for your next event—you too will be bowled over!"
Sheri Thomsen, President, Janesville Woman's Club
The Event: An 88 year old nonprofit historical building's Foundation is raising $100,000 in capital campaign improvement funds. Chef Rafe created Janesville Wisconsin's first ever Pop Up Restaurant in the building's art gallery.
Responsibilities: Chef Rafe created an inspired and creative menu using many locally grown and available ingredients. Three passed hors d'oeuvres and three served courses, perfectly paired with wine, made for an unforgettable dining experience.
Review: We began selling tickets BEFORE the invitations were even mailed. When the news hit the local communication lines that we were hosting the first ever Pop Up Dinner at the Woman's Club Art Gallery, people called immediately to be on the list of guests.
We were delighted to welcome over 115 guests. Chef Rafe accommodated all dietary needs with a fun, eclectic menu that appealed to all palates. His staff was friendly, on time and fun to work with—as was the Chef himself. He responded to all planning questions and visited the site several times to be sure the logistics were smooth.
Chef Rafe's attention to detail created not only a delicious event, but also a beautiful one with creative serving options, table setting suggestions and overall style. The event was a successful fundraiser and helped us raise awareness and excitement about such an important building in Janesville's history while offering an elegant dinner.
Featured in the Janesville Gazette: Pop-Up Restaurant to Benefit Rejuvenate 108 Capital Campaign
"This is a special treat for Janesville to have this experience with a chef that's been trained in France and a native of Janesville. He's going to create wonderful menus," Thomsen said.
Start here to plan your event.
Using the form below, give us some general info about your event. We'll be in touch with you soon to start planning!